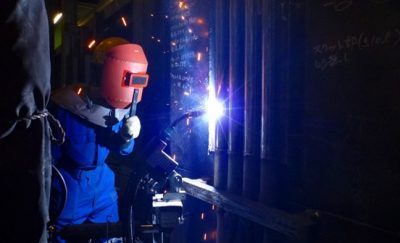 Waste incinerators and black liquor recovery boilers in the paper industry may be damaged by corrosion causes such as chlorides and sulfides, such as the walls of water pipes in the combustion chamber and superheaters. By applying Inconel overlay welding to these, it is possible to protect and prolong the life of the raw pipe. VINA OFIC has a track record of overlaying superheaters and will continue to provide overlay welding to meet the needs of various customers.
OSAKA FUJI Co., Ltd. responds to various customer needs such as steel companies, thermal power plants, waste incinerators, and paper companies. We have a construction record thermal spray of boiler panel about 25,000 m2.
The purpose of thermal spraying is to prevent boiler tube damage such as erosion wear, chloride corrosion, and sulfide corrosion under high temperature inside the boiler.One of our strengths is that we are thermal spray infactory not only on on-site construction, and we also have a lot of on-site construction experience such as power plants and waste incinerators.
Based on the technology cultivated in Japan, VINA OFIC has a track record of thermal spraying approximately 99.8 m2 on the boiler panel of a waste incinerator boiler by HVOF spraying. We will continue to provide thermal spraying to meet the needs of our customers in Vietnam.